We are Licensed and Bonded by the Federal Maritime Commission.
View copy of license
Get our newsletter
How International Ocean Shipping Works
How International Ocean Shipping Works
UBox Worldwide makes international shipping easy.
1.  Get a Quote
Start with a free quote right here on our website.
2.  Book Your Shipment
After you get your quote, e-mail or use the convenient link in your follow up email to book your shipment.
You will get a Booking Confirmation email and attachment which tells you where to deliver your freight, required delivery date, Vessel Name, arrival information, and delivery number.
You will need this information when you deliver to the warehouse or when your boxes are picked up. In fact, the warehouse will not except any freight without a delivery number.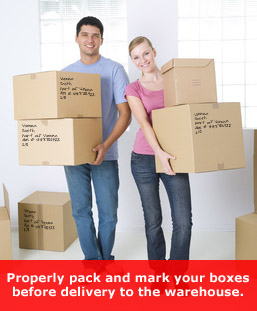 3.  Pack Your Boxes
Pack your boxes well and mark them properly.
The information required on every box includes the delivery number, destination port, and the last name of your Consignee (the person you designate to pick up your boxes at the CFS at your destination).
Please number your boxes 1 of 5, 2 of 5, 3 of 5 etc.
4.  Submit Packing List
Once your boxes are properly packed and marked, submit your Packing List on our website.
The shipper and consignee information on your packing list is required for your Marine Bill of Lading. We will send you a copy of the packing list for your records. Please keep in mind that the valued list is what customs will use to determine tax and duties due.
Also, U.S shipments valued more than $2500 USD, will need a Shipper's Export Declaration
Commercial shipments from Canada that are valued more than $2000 CDN require
a B13 Form
5.  Deliver Your Boxes to the Warehouse (or have them picked up)
Deliver your boxes under the delivery number on your booking confirmation. Please make sure you have all the required documentation for your shipment before delivering to the warehouse. If you have any questions, please email us: info@uboxworldwide.com
If you would like your shipment palletized please contact us before delivery. There will be an extra charge for the pallet and your ocean freight charges will likely increase by 30 to 50 percent depending on how your boxes fit on the pallet.
If you would like us to pick up and deliver your boxes to the warehouse, we will need the local address and exact weight in lbs.  Truck pick up quotes are based on weight whereas ocean shipping quotes are based size and volume.
6. Pay & Get Marine Carrier Billing of Lading
You will receive an invoice by email after the warehouse confirms the measurements of your boxes and issues a dock receipt. You can pay your invoice with a credit card on our secure online payment page.
After payment is received, we will issue a Marine Carrier Bill of Lading, which means your cargo is in the possession of the carrier -- either in route to the loading vessel or in carrier's warehouse awaiting loading. Should the shipment miss the intended vessel, or the vessel is substituted by another, you will be notified and a new Bill of Lading will be issued.
7. Receive Your Goods
The Bill of Lading will act as a receipt for your goods, an invoice, and a contract of carriage between you and the carrier.
The person receiving the goods must have the Marine Carrier Bill of Lading. You will be required to send your Bill of Lading to the person receiving your goods if the Consignee is someone other than yourself. They should contact the Delivery Agent listed on the Bill of Lading on or near the scheduled arrival date to arrange for pick-up and customs clearance.
Please read the Terms and Conditions
Thank you for shipping internationally with UBox Worldwide!