International Shipping to Germany from the U.S.A. and Canada.

Moving to Germany - How Ocean Shipping Works
Whether you are moving to Germany for work, or are a returning citizen, we make shipping to Germany easy and worry free. We have very economical service to the main German ports of Bremen and Hamburg. We can also offer service to terminals in many inland cities and also delivery to door at your residence. Please use our rate quote form to see if we ship to your town. Pick up at your residence in the U.S. or Canada can also be arranged at additional costs. UBox Worldwide ships to Germany via consolidated ocean containers (LCL). This means your shipment will be placed into a container with other cargo which lowers the cost of shipping. If you are moving an entire household or commercial cargo, please contact us for a full container (FCL) quote.
Calculating Rates and Associated Costs
Shipping Rates to Germany start at $8.50 USD per cubic foot with a minimum of $300.
Rates vary by origin and destination cities. The example above is the rate from New York warehouse to Bremen warehouse. Sea Freight has a minimum charge per shipment. This means you must pay the minimum rate for anything that measures less than 35 cubic feet. Weight is not a factor in ocean shipping, but we do would need and accurate weight and measurement, if you would like a truck pick up quote.
For an example, 36 cubic feet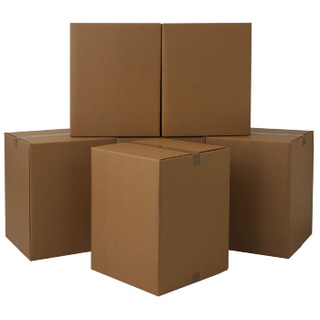 is equal to 12 boxes that are 18" x 18" x 16"
How to Get a Rate Quote for Ocean Shipping
Ocean shipping rates are based on the cubic volume of the shipment, because you are paying for the space your shipment takes up in the container. So, to get an accurate rate quote you will need to know the L" x W" x H" of each box. Multiply the L" x W" x H" and divide by 1728 to get the cubic foot volume of each box and add the sums together for the total cubic volume.
Or use our instant rate quote calculator and it will do the work for you.
Types of Cargo Accepted
All must be boxed, crated or palletized and must be packaged properly in order to be accepted for shipping. We handle personal effects and commercial cargo. Personal effects are usually considered to be owned by the person that is both the shipper and the consignee. If you will not be present in Germany when your shipment arrives, we suggest shipping c/o (care of) a person you designate, to pick up the shipment, on your behalf. There is usually no duty accessed on personal effects, but it varies by country and individual circumstance, so please check with your local consulate or customs office.
Palletizing
The most cost effective way to ship is to ship loose boxes. This means that each individual box is measured and handled separately. The safest way to ship is to palletize and shrink wrap your entire shipment. Your boxes will be placed on a heat treated wooden pallet and wrapped in plastic. Palletizing will increase your ocean freight costs anywhere from 30 - 100%, because the entire shipping package including the pallet is measured from the bottom to the highest point. It is best to make sure that all of your boxes are the same size and fit evenly on a 48" x 48" pallet in order to keep the cost down.
Insurance
Marine cargo insurance is available at a cost of $2 per $100 of the packing list value, with a minimum $75 We offer "all risk" coverage, meaning your goods are covered for breakage and all other perils, provided that your goods are correctly packaged and protected . The insurance company will fully inspect shipment before honoring a claim. A word of caution here: there are websites that state that steamship carriers offer free insurance up to $500 per package. Sorry, it isn't so. What they are referring to, are the limitations of liability afforded carriers under international maritime law which is $500 per package/freight unit. This means that if the carrier is negligent for a loss, then they are obligated to pay only $500 per unit, although the value of the unit may be more. Keyword being "negligence". There are many losses that are not considered negligent, whereby the carrier is not responsible. These include Acts of God, Heavy Weather, Tsunamis, Stranding, General Average Strikes, Acts of War, improper packaging for export, etc. Bottom line, no matter what you read, there is no free insurance.
Destination Charges
Ocean rates are based upon the cubic space in the ocean container that the cargo occupies with the cost varying, depending upon the country and city destination. Our rate covers warehouse receiving, tallying, loading into container, documentation and ocean transport. These costs are included in your box rate. There will be local destination/delivery charges upon warehouse release, per custom of the port. These charges are customarily collected from the consignee at the delivery port, but can sometimes be prepaid. It is also important to understand that customs clearance, duties and taxes, if any, are the obligation of the receiving consignee; however, in most countries it is possible to clear customs yourself and normally duty is not levied on your own used personal effects.
Customs Clearance
Your shipment must be cleared at the port of entry, regardless of it's final destination. This is either Hamburg or Bremen and means that you will either have to travel there to clear your goods yourself or hire a customs broker to clear on your behalf. The local agent can also usually handle clearance for a fee. Your goods will move to the final destination after clearing.
Click here for an Instant Rate Quote
ITEMS THAT WE DO NOT ACCEPT FOR SHIPMENT
MONEY ORDERS
CURRENCY
CHECKS
FIREARMS
AMMUNITION
RELOADERS
EXPLOSIVES
DRUGS AND OTHER PROHIBITED
SUBSTANCES
LEWD, OBSCENE OR PORNOGRAPHIC
MATERIALS
PERISHABLES / FOOD
ALCHOHOL
Example Box Sizes
MEDIUM:
18" X 18" X 16" (3 cu. feet)
for linens, toys, clothes, etc.
LARGE:
18" x 18" x 24" (4.5 cu. feet)
for electronics blankets, pillows, lampshades etc.